JULIE LAMB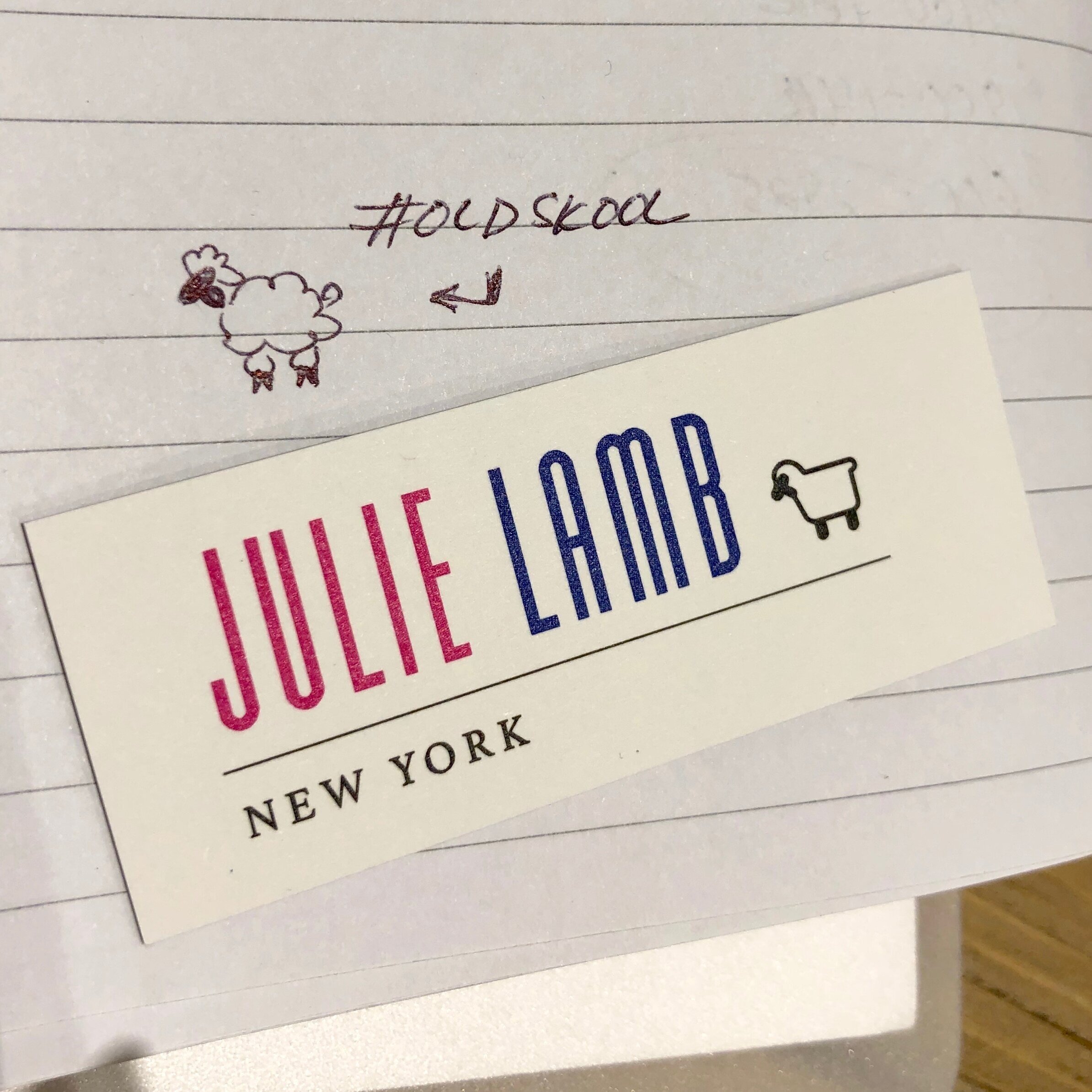 HOW DID YOU GET INTO THE JEWELRY INDUSTRY?
My whole life, I've only ever made jewelry. As early as second or third grade, I was hand making things with beads, clay, nail polish, rhinestones, keys, you name it. Around that time, my parents joined a pool club and while they didn't sign me up for the day camp, every day at 5pm when camp was over, I would head over to the grounds and treasure hunt for beads in the dirt under their picnic tables. I had a collection of matchbox car carriers and that's where I kept all my beads. When I was 16, I decided I was going to be a jewelry designer. I only looked for colleges that had jewelry programs.
DID YOU HAVE ANY TYPE OF DESIGN BACKGROUND?
My first formal training was studying illustration at the High School of Art & Design, a NYC magnet school in midtown. I was making jewelry out of any material I could get my hands on with my best friend after school. We'd scour the city for materials but I longed to work in metal so I could have the freedom to make anything I wanted. I attended Syracuse University where I majored in metal smithing.
WHAT DO YOU LOVE ABOUT JEWELRY?
The thing I am probably most addicted to is seeing one of my visions come to life. I can have an idea in my head that only I can see but after going through the process of sketching through to 3D and then finally holding the finished piece in my hand – I get high off of it.
HOW LONG HAS YOUR COMPANY BEEN IN BUSINESS?
Almost five years old – I started working for myself mid-September 2014. I had gotten laid off from my last job as Director of Product Development & Merchandising at a fine jewelry startup, focused on customization. It was my first non-designer role! About 12 weeks later, that same December, I had my first showing at a factory with a showroom in the Diamond District I was freelance drawing for. My website launched October 30, 2015.
WHAT MOTIVATED YOU TO START YOUR COMPANY?
I had a lot of different work experiences from costume jewelry to fine. When I got laid off that last time, I got home that morning, made myself a lychee martini (or three), and knew I wasn't going to go on another interview. It was time to work for myself for three reasons:
I couldn't think of another company I wanted to design for.

Higher level design positions were becoming extinct, being absorbed by Marketing or Product Development departments.

I was always put in a box at the companies I worked for and I wanted to touch more departments.
WHERE ARE YOU BASED?
New York.
WHERE ARE YOU FROM?
Brooklyn.
ONE WORD TO DESCRIBE YOUR JEWELRY
#DifferentbyDesign. Had to answer in a hashtag to conform to 'a single word'- no boundaries!
IS THERE A UNIQUE STORY BEHIND YOUR BUSINESS NAME OR LOGO?
I went with my name. After 'ghost' designing for so many companies, I was ready to commit to work under my own brand and that means using my name. Also, I've always liked my name! Only nine letters, perfect for branding!
I've been signing my artwork with a lamb since my school days, so I was already very used to using this logo.
WHAT'S THE FIRST PIECE OF JEWELRY YOU FELL IN LOVE WITH?
My grandmother had bought a set of stacking rings with bezel set diamonds that she decided to wear on her wedding band finger as an alternative to her bridal set. She was stacking and doing alternative bridal way ahead of us all! I thought it was the coolest thing. I love that she wanted to switch it out. It was clean and simple. I loved it so much that I put a version of them in my Elements collection – the Mariel Stack Trio. My grandma also wore a chevron band on her pinky which I also added to my collection using her middle name Lila.
WHAT IS YOUR SPIRIT ANIMAL?
I come in like a lamb but go out like a tiger or Taurus (my Chinese zodiac or horoscope signs respectively!) Whatever the opposite of March is!!!
WHO IS YOUR JEWELRY ICON?
People who have been at the bench, honed their skills and identified their signature. Moritz Glik is the first one that came to mind, the whimsical movement of encased loose stones. Also Nikos Koulis and Hemmerle - I really appreciate their highly engineered and very tight manufacturing aesthetic and creative use of materials. They are fashion but also pushing boundaries. I also love Todd Pownell's riveted diamond pieces, and Polly Wales colorful #castnotset
IF A THEME SONG PLAYED EVERY TIME YOU WALKED INTO A ROOM, WHAT WOULD IT BE?
'One' from The Chorus Line. I chose it when I was 13 for my Bat Mitzvah and then I picked it again for my wedding walk down the aisle figuring it was the last time I could use it!
DO YOU HAVE A PIECE(S) OF JEWELRY YOU WEAR EVERY DAY AND IF SO, WHY?
While I change up my jewelry depending on where I am going, I do have some essentials such as my grandmother's rings, a bunch of single earrings I sleep in and usually a pair of hoop earrings. If I'm going to the city – I am fully loaded. #neckmess, statement rings, all of it!
ONE WORD TO DESCRIBE YOUR STYLE
Eclectic. My power dressing always involves a jumpsuit. Recently, I wore a beautiful pink flowy silk maxi dress downtown during fashion week - it didn't make me feel strong and secure. It was too too girly! I love anything military inspired, utilitarian, unisex and menswear inspired. Some days I might look like a pilot or a sanitation worker, but I love it. As long as I throw on a good lipstick, hoops and a backpack, I'm set. I don't shy away from color, I mix patterns and I try not to wear black – it's so expected. I'll only wear black if it's a funky silhouette.
LAST PIECE OF JEWELRY YOU BOUGHT AND LOVED
Little tiny Kelly Bello Rainbow Huggies that I bought at the last Metal & Smith.
Prior to that would be four years ago. I was on vacation in Cape Cod and discovered this great jewelry store called Ruby's that represented an eclectic assortment of designers. She happened to have some Petra Class pieces on sale and there was this one ring that caught my eye – it was a wide band, bezel set with a mix of faceted and rough diamonds. I was struggling to afford making my own stuff but I had to have it! I love buying other designers' jewelry. Every dollar I make I put back into jewelry, I am 100% recyclable back into the industry- I would like to have my ashes spread on 47th Street when the time comes!
THE BEST GIFT YOU'VE GIVEN RECENTLY
A very special bespoke necklace for my high school best friend who recently had a baby. You know how in some hospitals they give the parents an inked photo of the newborn's feet? I took a big 18k yellow gold disk and engraved the exact image of her baby's feet on one side and put his full name and weight on the other. We burnished small diamonds in between the pounds and the ounces. She loves it!
THE BEST GIFT YOU'VE RECEIVED RECENTLY
Gifts from Lambassadors. Most recently, one of my Lambassadors printed my logo on fabric and sewed up a little pouch with my lambs all over. My #GemBestie Jackie @mystoryjewelry gave me her bar necklace engraved with #beewe. I've also gotten a manhole cover key chain wallet and rubber sheep I keep on my monitor as well as sheep cards - Lambassadors like to play! I love all of my Lambie trinkets!
THE THING YOU ARE COVETING NEXT
I am looking forward to the next level in my business – I am excited to see what happens after five years of being in business.
YOU CAN NEVER HAVE ENOUGH…
Jewelry. What did you think I would say?
FAVORITE FOOD?
Protein…clearly I've become a Keto diet fan.
LEAST FAVORITE FOOD?
French.
WINE OR CHEESE?
You can't do one without the other. Yes.
COFFEE OR TEA?
Both/neither. Tequila : )
YOGA OR BOXING?
Boxing..
FAVORITE SEASON?
Fall.
FAVORITE CITY?
Hello! NYC of course.
FAVORITE VACATION SPOT?
Anywhere in Italy.
THE LAST SONG YOU LISTENED TO?
I recently switched it up from Björk to Cardi B. I've been playing 'Money' on repeat.
THE LAST CONCERT YOU WENT TO?
I hardly go to live ones – I don't even know.
SUPERPOWER OF CHOICE?
Flying.
SECRET SKILL?
I can really cook. Also, I can touch my tongue to my nose.
FRIENDS CHARACTER YOU RELATE TO THE MOST?
I'm like a 'Friends' mullet – I am a Phoebe in the front and a Monica in the back.
FAVORITE PART OF THE DAY?
Evening.
LEAST FAVORITE PART OF THE DAY?
Morning.
YOU WON'T LEAVE HOME WITHOUT…
Lipstick.
WHEN DO YOU FEEL HAPPIEST?
After that afternoon cocktail with friends, but also when I make a new piece and it comes out just as I envisioned.
WHEN DO YOU FEEL STRONGEST?
After I accomplish all my things in the Diamond District or figure out a way to do something on my own.
YOUR BIGGEST FEAR
Failing.
HOW DO YOU PICK YOURSELF UP FROM A LOW DAY?
Self-medicate and good sleep.
WHAT PIECE(S) OF JEWELRY MAKES YOU FEEL HAPPIEST?
My Freelancer ring. I originally started doing hinge rings in college out of silver and semi precious. This grown up, engineered version in baguettes speaks to where I am now -#BeFlexible
WHAT PIECE(S) OF JEWELRY MAKES YOU FEEL STRONGEST?
The "Stand Out" ring from my Be Ewe collection. It is a simple piece, all metal, just my logo standing up on top of the shank, nothing else. It's so symbolic of the brand and what I'm doing, when people buy this one, I feel the love!
WHAT DOES JOY MEAN TO YOU?
Freedom. Options. Dancing.
WHAT DOES CONFIDENCE MEAN TO YOU?
Everything.
WHAT DOES EMPOWERED MEAN TO YOU?
Being accepted for who you really are brings the confidence you need to go forward and build the life you want.
WHAT ADVICE WOULD YOU GIVE YOUR YOUNGER SELF?
Trust your instincts.