KURT PIO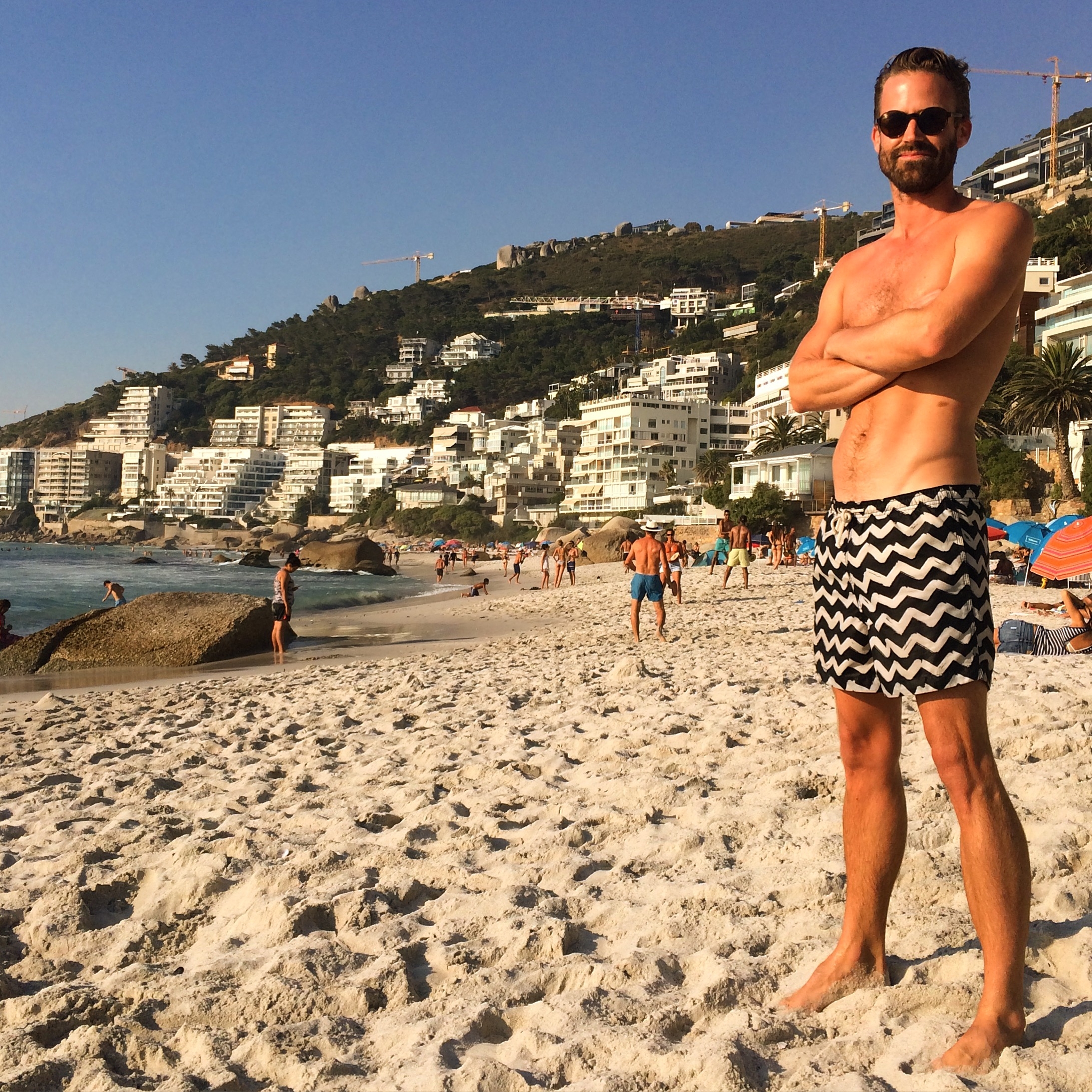 HOW AND WHEN DID YOU BECOME AN ARTIST?
In primary school I knew I could draw and paint and thought everyone else could do the same. It was only when I was in high school that I realized it wasn't the same for everyone. I didn't pursue a painting career after school because I had been warned there was no money and wouldn't be able to make a living. Instead, I studied interior design at Cape Peninsula University of Technology. I worked in the industry for six months and hated it. I knew I had to resign. I moved back home to my mom's house and painted in her garage – it was almost a therapy to feel better. All of a sudden, people were interested in my work. I got a commission or two and it took off. Eventually, I got enough work to be able to get a studio. That was 13 years ago.
DID YOU HAVE ANY TYPE OF ART OR DESIGN BACKGROUND?
I have always loved to make things with my hands. Looking back, I truly have to thank my primary art school teacher as she was a great source of inspiration. She saw I could do something and encouraged me to carry on with it. While my parents weren't what you would call artists, they were creative. Growing up, my mom did a lot of sewing, candle wicking and bedspreads. My father worked for a company that recycled boxes and paper. Since he was very good at making things with his hands, he would always be making different sculptures out of cardboard - he was able to take a cardboard box and truly make something amazing.
WHERE ARE YOU BASED?
Cape Town.
WHERE ARE YOU FROM?
Born and raised in Cape Town.
ONE WORD TO DESCRIBE YOUR ART
Synchronicity.
WHAT'S THE FIRST PIECE OF ART YOU FELL IN LOVE WITH?
I had a book about great artists (it was my grandmother's book) that had beautiful black and white photographs and colorful photographs. I remember there was a sculpture by Pablo Picasso that looked like an abstract guitar. It was something I would always turn to and look at. At the age of nine, I decided to sculpt this with cardboard.
WHAT'S THE FIRST GEMSTONE YOU FELL IN LOVE WITH?
Yellow Cognac Diamond.
WHAT INSPIRED YOU TO PAINT GEMSTONES?
In 2011, I was doing a residency in Amsterdam and they put me in the basement of a studio which was shaped like a hexagon – it looked like a honeycomb from the sky. I started to draw a pattern – I connected the patterns and it ended up looking like a diamond which was fortuitous because I would always try to produce something that was from SA and as you know, there are lots of diamond mines in the country. I did a rough watercolor and later developed it into a thicker canvas.
WHERE DO YOU DRAW INSPIRATION FROM?
I am always picking things up with my mind (logo, colors, visuals, etc.) and a week or so later, I store them in my mind. If I see enough of the same thing, I make a note and I decide to visually recreate it through my art. You see, ideas or visuals come to me and I feel like I have to give them life - I need to make them with my hands and experiment. Different people connect with different subject matters and for me it is painting.
WHAT IS YOUR SPIRIT ANIMAL?
A mountain goat for its freedom and agility, big beautiful horns and its springiness. It always looks happy and optimistic and can survive in harsh climates.
IF A THEME SONG PLAYED EVERY TIME YOU WALKED INTO A ROOM, WHAT WOULD IT BE?
It would be silence – I can't work with music, I need absolute silence.
DO YOU WEAR ANY JEWELRY? IF SO, ARE THERE ANY PIECE(S) OF JEWELRY YOU WEAR EVERY DAY AND IF SO, WHY?
I wore a crystal, a Herkimer diamond, for a while. I don't like to wear metal. I go through phases where I get obsessed with crystals and place them around the home, bed or garden. My crystals go from being front and center to being on the sidelines. They basically go from their boxes, to being exposed, to back to their boxes - I go with my phases.
I love the color of malachite and yellow citrine. The colors tie in with the color of my art. I like gems for what they mean and other times for their aesthetics.
ONE WORD TO DESCRIBE YOUR STYLE
Currently changing – so I am not sure.
WHAT PIECE OF ART IS THE CENTER OF ATTENTION IN YOUR HOUSE?
My Emerald painting which is hung in my dining room.
THE THING YOU ARE COVETING NEXT
An experience, specifically, travel. I long for a trip – a vacation or another trip to Berlin.
THE BEST GIFT YOU'VE GIVEN RECENTLY
Money for car tires for a friend.
THE BEST GIFT YOU'VE RECEIVED RECENTLY
My birthday was in December and a friend gave me a package with a bunch of objects: a quartz crystal, a bowl made from marble, a tray, a flat disc cut from stone and a rough handblown bowl. All the objects were of the same color. I spread them throughout my home and this gift in turn ignited a side of me that I don't usually tap into: to stop and take the time for stillness and meditation. They weren't just objects. To this day, when I walk past any of them, I take the time to stop and appreciate, thereby creating a calmness and stillness within me.
DO YOU HAVE A FAVORITE PIECE OF ART YOU'VE CREATED?
When I was a child, I made a collage of a lion. It was photographed for the school magazine. My house burned when I was six and my collage got lost in the fire.
DO YOU HAVE A FAVORITE PIECE OF ART BY SOMEONE ELSE?
A photograph by a dear friend, Gabrielle Guy. It is a photo of me at Afrikaburn, out in the desert in SA.
YOU CAN NEVER HAVE ENOUGH...
Time with your loved ones.
FAVORITE FOOD?
A Hibiscus Vinegar served on Panna Cotta from Mulberry & Prince in Cape Town.
LEAST FAVORITE FOOD?
I don't have one.
WINE OR CHEESE?
Wine.
COFFEE OR TEA?
Tea, specifically, Green Rooibos tea. It is only the last two years that I started drinking coffee. Fun fact, when I drink coffee, I send messages to my friends saying how much I love them.
YOGA OR BOXING?
Yoga.
FAVORITE SEASON?
Summer.
FAVORITE CITY?
Berlin.
FAVORITE VACATION SPOT?
Chianti in Tuscany.
THE LAST SONG YOU LISTENED TO?
'Falling' by Cubicolor and featuring Tim Digby-Bell.
THE LAST CONCERT YOU WENT TO?
Justin Bieber.
SUPERPOWER OF CHOICE?
Time machine.
SECRET SKILL?
Super-efficiency.
SOCIAL MEDIA OF CHOICE?
Instagram.
FAVORITE PART OF THE DAY?
Afternoon – I get to enjoy a nice walk home.
LEAST FAVORITE PART OF THE DAY?
Morning – I feel rushed and, frantic.
YOU WON'T LEAVE HOME WITHOUT...
Reading glasses.
WHEN DO YOU FEEL HAPPIEST?
When I am with my closest friends at a function, party or dinner.
WHEN DO YOU FEEL STRONGEST?
When I meditate, breathe and do things consciously - it makes me feel wholesome.
HOW DO YOU PICK YOURSELF UP FROM A LOW DAY?
If it's at the end of the day and I'm home in Cape Town, I'll take my bicycle out for a ride. There is a bicycle lane in front of my apartment - I cycle to the beach front/promenade, where the ocean meets, get dinner for myself, and head back home. All Capetonians get out and walk, run or push their prams with their kids around the beach front.
WHOSE ART WOULD YOU GO TO A MUSEUM FOR?
Franz Kline, Monet, Picasso, Sterling Ruby, Warhol.
WHAT COLOR(S) MAKES YOU FEEL HAPPIEST?
Currently: Golden orangey yellow – the color of free range egg yolk, Veuve Clicquot champagne bottle, and that of the Acqua di Parma packaging. Both the wall in my apartment and the wall in my bedroom are currently that color. Previously it was white as every now and then I need a neutral color. Before white, it was a duck egg blue.
WHAT COLOR(S) MAKES YOU FEEL STRONGEST?
In terms of colors that I wear and make me feel strongest they would be monotone black or red.
WHAT DOES JOY MEAN TO YOU?
Something from the inside. Content but also a childlike happiness - beautiful, energy, fun, free, childlike quality. It is light and spontaneous.
WHAT DOES CONFIDENCE MEAN TO YOU?
At the moment I feel good about the word – I feel positive about it. Other times, I feel negative about it, because I lack it. I am attracted to confidence.
WHAT DOES EMPOWERED MEAN TO YOU?
I like it because it comes from within, you don't have to study or get a degree to feel empowered. You can learn techniques on your own and feel empowered. You can get ahead in life if you are empowered. It is free for everyone to take on, it doesn't cost them anything.
WHAT ADVICE WOULD YOU GIVE YOUR YOUNGER SELF?
Don't worry so much, don't stress out - things generally work out. Take more risks and don't worry about what people say. Spend time with dreamers. There are people that are like minded - there is a place for you. Keep doing.