MIRTA DE GISBERT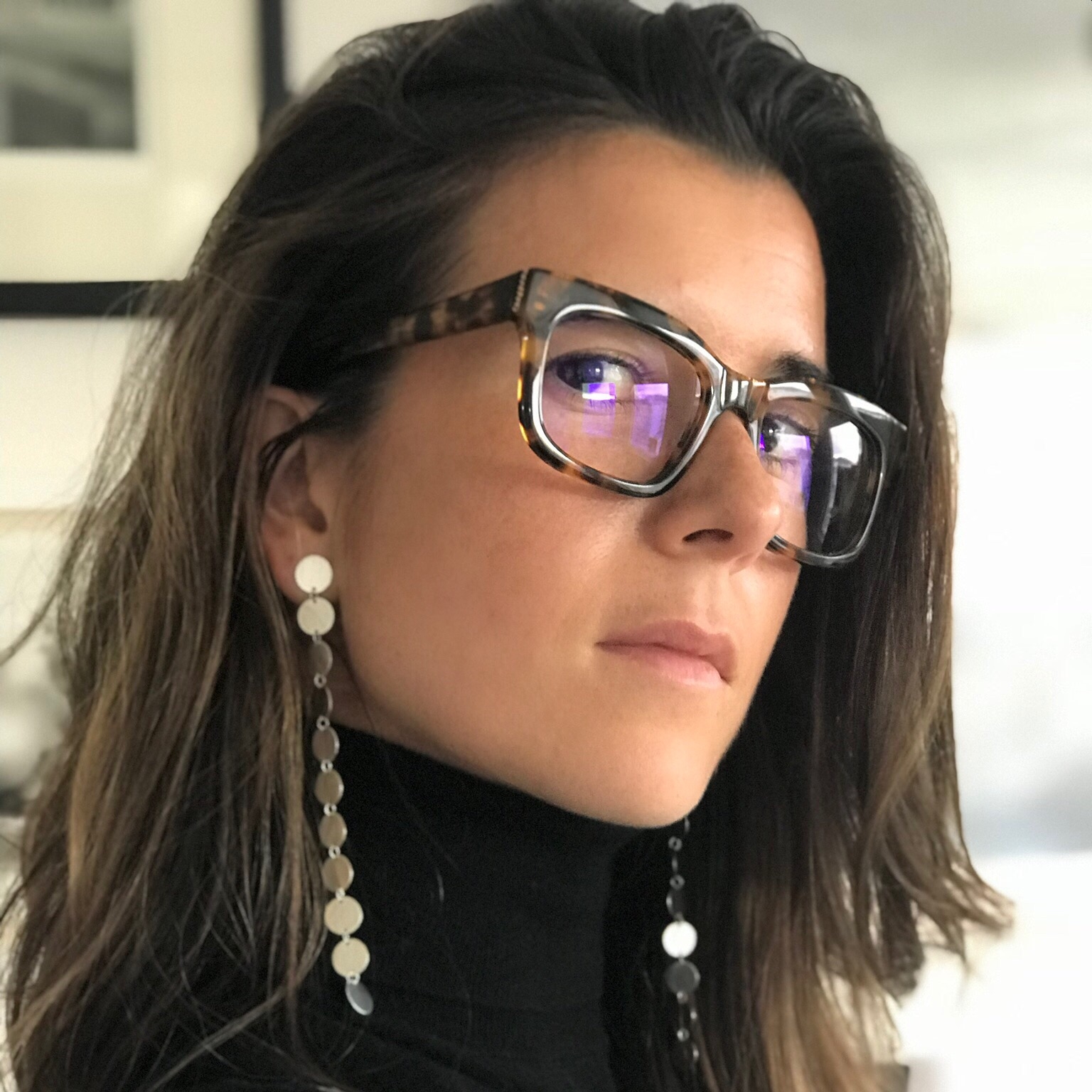 HOW DID YOU GET INTO THE JEWELRY INDUSTRY?
While I have always had a love and fascination for jewelry, I officially entered the industry when I interned for Jessica McCormack in London. This was followed by getting my Graduate Gemology degree from the GIA and working with a series of other jewelry designers as well as Sotheby's jewelry department in London.
Growing up in South Africa, nobody wore jewelry but I remember being a child and anxiously awaiting the moment when we would come back to Europe and my mom would go to the bank to take out the jewelry. At the time I was too young to be allowed into the vault so she would only be able to select a few pieces to take out to show me. Once I was old enough to enter the vault with her, I could spend hours! I loved analyzing the different stones and pieces, revisiting the origin and story behind each piece. I never tired of those stories.
WHAT DO YOU LOVE ABOUT JEWELRY?
The emotions it evokes and the stories it tells. Jewelry is a form of self-expression. It is a wearable and tangible memory. We have adorned ourselves with jewelry since prehistoric times and it's fascinating to learn about the history and how it has evolved. There is something so magical in the symbolism, cultural significance and sentimentalism in jewelry. And don't get me started on the gemological aspect of the gemstones - it's incredible! Getting my gemology degree was the most I have ever enjoyed studying - gaining an in-depth understanding about the gemstones provides another layer of profound appreciation for jewelry. Earth's ability to create such varying and beautiful stones is unbelievable.
HOW LONG HAS YOUR COMPANY BEEN IN BUSINESS?
I officially launched a year ago today: August 17, 2017.
WHAT MOTIVATED YOU TO START YOUR COMPANY?
There is something so incredibly thrilling and exciting about the unknown, creating something from scratch and chartering your own course. I had initially toyed with the idea in 2012 but at the time, I didn't feel fully ready and I am a huge believer in listening to your inner voice. When I started at Edelman in 2014, I saw myself working there for the foreseeable future. I had put this idea of starting something on my own, completely out of my head. I loved what I was doing, how much I was learning and I have (intentionally using present tense) never worked with such smart, talented and driven people. I developed a new sense of confidence and empowerment that in retrospect I lacked in 2012 because only after a few years at Edelman, my inner voice (again) started to tell me to start my own company. I initially ignored it because I loved what I was doing, but when the voice got louder, I knew I had to listen to it, and this time, I felt ready.
WHAT WAS THE FIRST PIECE OF JEWELRY YOU CONSULTED ON?
Upon launching, my mom wanted to be my first client. She selected the Gold Package in Fine Jewelry which gets you six tailored recommendations. She fell in love with the Julie Vos Byzantine Link necklace I found for her.
WHERE ARE YOU BASED?
San Francisco.
WHERE ARE YOU FROM?
Spain (born in Madrid and family is from the Basque Country) but I grew up in South Africa – my family and I lived there a total of 21 years.
DESCRIBE THE JEWELRY YOU WEAR
Timeless.
IS THERE A UNIQUE STORY BEHIND YOUR BUSINESS LOGO?
I chose the wax stamp because it has a romantic and traditional feel that jewelry evokes but I chose the Klein Blue because it is a modern color and approachable to both men and women. MG are my initials.
WHAT'S THE FIRST PIECE OF JEWELRY YOU FELL IN LOVE WITH?
A ruby and diamond pinky ring that belonged to my mom.
WHO IS YOUR JEWELRY ICON?
Elizabeth Taylor and Iris Apfel.
WHAT IS YOUR SPIRIT ANIMAL?
Dolphin.
IF A THEME SONG PLAYED EVERY TIME YOU WALKED INTO A ROOM, WHAT WOULD IT BE?
'You Gotta Be' by Des'ree.
DO YOU HAVE A PIECE(S) OF JEWELRY YOU WEAR EVERY DAY AND IF SO, WHY?
Right ear: Diamond stud from my aunt/godmother, small diamond hoop
Left ear: Diamond stud from my aunt/godmother, grey pearl that belonged to my mom, marquise trio stud and a diamond conch earring.
Neck: I don't wear necklaces everyday like I do with everything else, but the closest to every day is my Mizuki Baroque pearl necklace. The nature of baroque pearls is consistently inconsistent and this out of this world beautiful.
Right wrist: Mother and daughter bracelet set from Starling. I gifted one to my mom last December, but she passed earlier this year, so I wear hers with mine – it's a daily reminder that we will always be together.
Left wrist: Cartier bracelet stack (one white gold Cartier Love bracelet given to me by my parents as a graduation present from university; two Juste Un Clou bracelets, one of which belonged to my mom), Himba bracelet and MyIntent disk bracelet. I have positioned the Juste Un Clou bracelets, so the heads are touching – to me it either represents that our minds and/or our hearts are joined, a constant reminder that my mom and I are always linked.
Right hand:
Ring finger:
Cartier Trinity ring: When I was studying in Madrid, my aunt/godmother took me to the Cartier store and had me wait in the car. At the time I thought she was picking up one of her pieces. She called me in to the store to choose between two rings (at no point did I think this was for me). I went back to the car and when she came back, she surprised me with the ring.
Cartier Love ring: A Christmas present from my husband given to me on a trip to Rome with my family which happens to be when he asked my father for my hand in marriage..
Sapphire and diamond ring: It belonged to my mom – her mother gave it to her as a university graduation present. The design is a copy of one of the last rings that my grandfather gave to my grandmother; my grandmother's ring featured two emerald cabochons. My grandmother knew how much my mom loved that ring and her love for sapphires, so she designed this ring for her. My mom gave it to me for my 26th birthday. A few years later, I asked that we engrave the date of when she got it: June 1978.
Middle finger: Tiger ring by Kenzo that I got for myself. I wanted a statement ring that I could wear everyday with a fierce reminder that accompanied it and let's face it, tigers are pretty fierce animals.
Index finger: Double Spiral ring by Maria Black given to me by my brother for my 31st birthday. My brother has always been my best friend and on this ring I consider the two silver stud ends to represent him and I. Coincidentally, one is slightly larger so that would be me, the big sister, and the other one my brother.
Left Hand:
Pinky: Gypsy ring given to me by my parents as a high school graduation gift. My mom designed the ring. My dad was a metal trader in South Africa and platinum happened to be one of the metals that he worked with at the time so he wanted the ring to be set in platinum.
Ring finger:
My platinum wedding band. In Spain both husband and wife wear the same type of band. My husband and I wanted our wedding bands to be the same as a symbol of being one.
A sapphire eternity band that my husband gave me shortly after he proposed.
My engagement ring. My husband knew I wanted a pear shaped diamond flanked by two pear shape side stones. He spent the time looking for the right stones and I designed the ring.
Index finger: White gold perlee ring that my dad, brother and I got for my mom when she first won her fight against pancreatic cancer.
DESCRIBE YOUR STYLE
Depending on the day: classic with an edge or boho chic.
LAST PIECE OF JEWELRY YOU BOUGHT AND LOVED
A bracelet from MyIntent Project with the words "It's OK" engraved. Throughout the years, I have given my inner critic quite the platform and I am currently trying to quieten it. I have learned that by putting my hand over my heart and saying "It's OK" I am counteracting the negative voice with love, compassion and acceptance. It might seem like a simple phrase, but it is powerful.
THE BEST GIFT YOU'VE GIVEN RECENTLY
A Mother & Daughter bracelet set for my mom and I. The bracelets featured a bezel set ruby on a 14k yellow gold chain.
THE BEST GIFT YOU'VE RECEIVED RECENTLY
From my husband: the ability to repurpose a diamond necklace he gave me eight years ago into an emerald and diamond ring. It is currently being made so photos to come! While I loved the necklace, especially because he went through the process of choosing the diamond and designing the necklace, I struggle to make necklaces part of my everyday jewelry. Rings on the other hand (no pun intended), I wear consistently.
THE THING YOU ARE COVETING NEXT
I always crave travel.
YOU CAN NEVER HAVE ENOUGH ___
Love, happiness and jewelry.
FAVORITE FOOD?
I have two: Japanese and Basque.
LEAST FAVORITE FOOD?
Mint chocolate – this is the one thing that ever since I was at least five years old, I cannot stand.
WINE OR CHEESE?
Cheese.
COFFEE OR TEA?
Both.
YOGA OR BOXING?
Boxing.
FAVORITE SEASON?
Summer.
FAVORITE CITY?
I can't choose one as they are all special in their own way but the first that come to mind are: Madrid, San Sebastian, London, Rome, Vienna, Tokyo, Melbourne, Adelaide, Cape Town, Fez, Essaouira and Hong Kong.
FAVORITE VACATION SPOT?
St. Jean de Luz.
THE LAST SONG YOU LISTENED TO?
'Go with the Flow' by Lika Morgan.
THE LAST CONCERT YOU WENT TO?
Coachella 2017 so it would have been the last of the Sunday shows: Marshmello, Justice and Kendrick Lamar.
FAVORITE MOVIE?
Amélie.
SUPERPOWER OF CHOICE?
Flying.
SECRET SKILL?
I am an excellent (sober) Beer Pong player.
FRIENDS or MODERN FAMILY CHARACTER YOU RELATE TO THE MOST?
Monica from Friends and Gloria from Modern Family.
SOCIAL MEDIA OF CHOICE?
Instagram.
FAVORITE PART OF THE DAY?
Waking up.
LEAST FAVORITE PART OF THE DAY?
Afternoon slump.
YOU WON'T LEAVE HOME WITHOUT...
I honestly don't have something – when I can, I like to leave my phone, wallet and keys at home. There is something freeing about that.
WHEN DO YOU FEEL HAPPIEST?
Horse riding, specifically when I'm jumping. There is something so magical about riding. You trust the horse and the horse trusts you - you become one. The brief moment you're both flying, literally overcoming an obstacle, together – that feeling of flight and the connection you develop with the horse, it truly is indescribable.
WHEN DO YOU FEEL STRONGEST?
After overcoming an obstacle or conquering a fear.
YOUR BIGGEST FEAR
Death of a loved one.
HOW DO YOU PICK YOURSELF UP FROM A LOW DAY?
I hug my husband and my Frenchie.
WHAT PIECE(S) OF JEWELRY MAKES YOU FEEL HAPPIEST?
My Himba bracelet. One of my fondest memories is driving with my family from South Africa to Namibia, in search of the Himbas, an ancient tribe of semi-nomadic herders in Namibia. Jewelry is an essential component of a Himba woman's appearance and they will spend hours making jewelry to wear and sell. To this day, 17 years after this unforgettable trip, I continue to wear one of the bracelets given to me by one of the Himba women.
WHAT PIECE(S) OF JEWELRY MAKES YOU FEEL STRONGEST?
My Tiger Kenzo ring but also statement earrings and statement necklaces.
WHAT DOES JOY MEAN TO YOU?
Butterflies in my stomach and feeling light on my feet.
WHAT DOES CONFIDENCE MEAN TO YOU?
Feeling strong, trusting and loving yourself, recognizing your self-worth and feeling comfortable in your own skin.
WHAT DOES EMPOWERED MEAN TO YOU?
Trusting yourself, your decisions and actions.
WHAT ADVICE WOULD YOU GIVE YOUR YOUNGER SELF?
Live more in the present and don't worry so much.