CLAUDIO MUNOA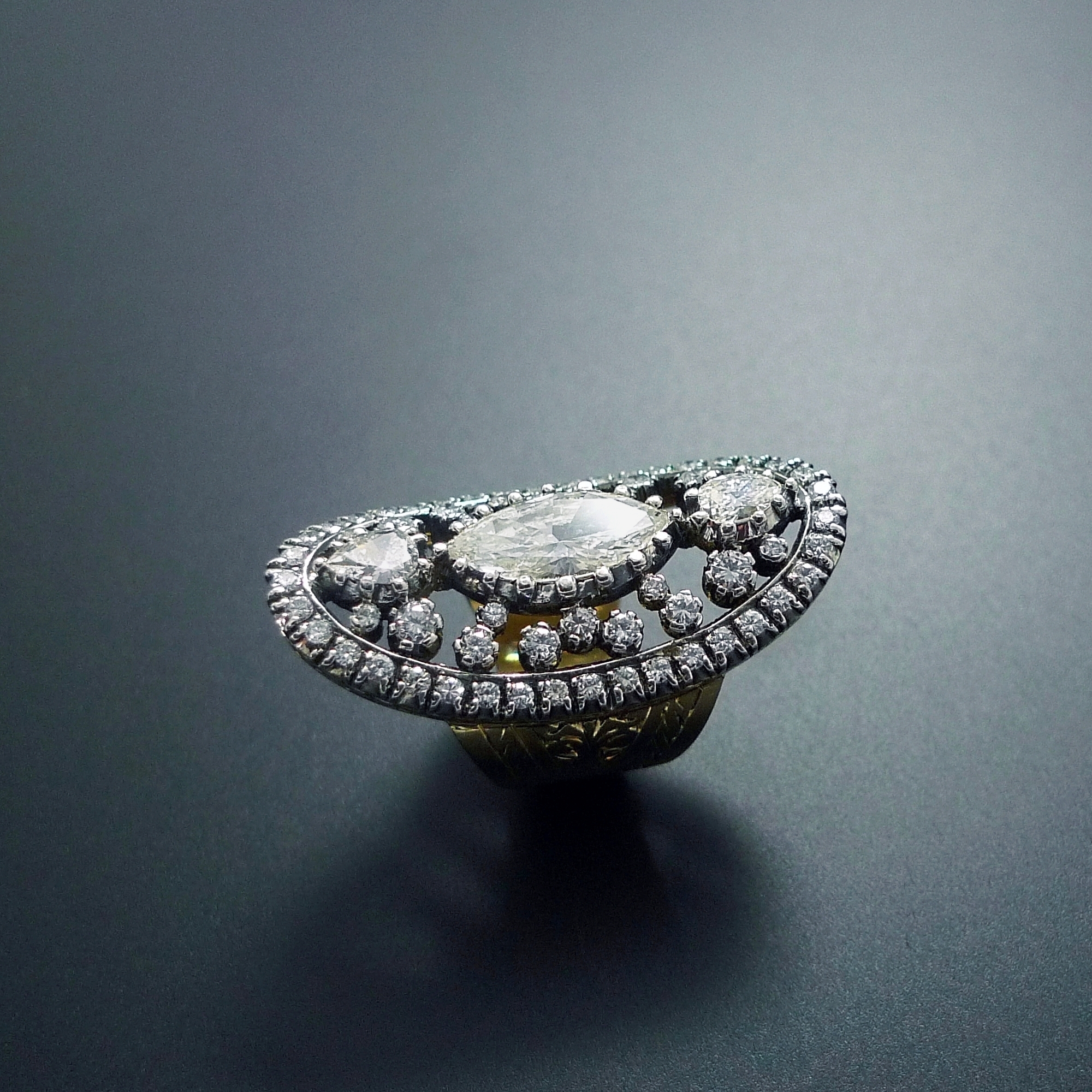 HOW DID YOU GET INTO THE JEWELRY INDUSTRY?
Through my family who has been in the jewelry industry since my grandparents. I consider myself so fortunate to not only have been surrounded by jewelry my entire life but also by such a driven and creative family.
DID YOU HAVE ANY TYPE OF DESIGN BACKGROUND?
I studied jewelry workshop and design in the Escola Massana - the Arts and Design school in Barcelona. I also studied design with two great French designers, Jean-Jacques Victor and Frank Massé. Additionally, I was an apprentice in my family's workshop for many years.
HOW LONG HAS YOUR COMPANY BEEN IN BUSINESS?
Joyería Casa Munoa was established in 1935 but I have been in charge of the business since 2002.
WHAT MOTIVATED YOU TO STAY IN THE FAMILY BUSINESS?
I wanted to continue with my family's incredible tradition.
WHERE ARE YOU BASED?
San Sebastian, a wonderful Spanish city by the Cantabrian sea.
WHERE ARE YOU FROM?
San Sebastian.
ONE WORD TO DESCRIBE YOUR JEWELRY
Quality-workmanship.
IS THERE A UNIQUE STORY BEHIND YOUR BUSINESS NAME?
Munoa has always been our family name.
WHAT'S THE FIRST PIECE OF JEWELRY YOU FELL IN LOVE WITH?
My grandmother's Georgian style diamond ring, designed by my father.
WHO IS YOUR JEWELRY ICON?
Peter Carl Fabergé.
WHAT IS YOUR SPIRIT ANIMAL?
Eagle - independent, stubborn, heavy worker.
IF A THEME SONG PLAYED EVERY TIME YOU WALKED INTO A ROOM, WHAT WOULD IT BE?
'Ain't No Mountain High Enough' live version by Diana Ross.
DO YOU HAVE A PIECE(S) OF JEWELRY YOU WEAR EVERY DAY AND IF SO, WHY?
An 18k yellow gold and emerald 'Donostibay' pin and a 1.14ct. diamond solitaire ring. Both pieces are not only easy to wear and comfortable but they also allow me to show my designs.
HOW WOULD YOU DESCRIBE YOUR STYLE?
Timeless.
LAST PIECE OF JEWELRY YOU BOUGHT AND LOVED
An Art Deco diamond and platinum sautoir.
THE BEST GIFT YOU'VE GIVEN RECENTLY
A pair of cufflinks to my husband.
THE BEST GIFT YOU'VE RECEIVED RECENTLY
A kiss from my husband.
THE THING YOU ARE COVETING NEXT
A bird of paradise brooch - we've done several of them and I absolutely love them.
YOU CAN NEVER HAVE ENOUGH...
...fantasy.
FAVORITE FOOD?
Txangurro a la donostiarra.
LEAST FAVORITE FOOD?
Conger eel.
WINE OR CHEESE?
That's a perfect match.
COFFEE OR TEA?
Coffee.
YOGA OR BOXING?
Boxing.
FAVORITE SEASON?
Spring.
FAVORITE CITY?
San Sebastian.
FAVORITE VACATION SPOT?
Menorca.
THE LAST SONG YOU LISTENED TO?
'When I Was Your Man' by Bruno Mars.
THE LAST CONCERT YOU WENT TO?
The Magic Flute opera by Mozart.
FAVORITE MOVIE?
Blade Runner, the original - not the 2017 sequel.
SUPERPOWER OF CHOICE?
Being able to breathe underwater.
SECRET SKILL?
Patience.
INSTAGRAM OR FACEBOOK?
Both.
FAVORITE PART OF THE DAY?
Morning.
LEAST FAVORITE PART OF THE DAY?
I don't have one.
YOU WON'T LEAVE HOME WITHOUT...
...a smile.
WHEN DO YOU FEEL STRONGEST?
When I am with my husband.
HOW DO YOU PICK YOURSELF UP FROM A LOW DAY?
By pushing through and moving forward.
WHAT PIECE(S) OF JEWELRY MAKES YOU FEEL STRONGEST?
My diamond solitaire ring.
WHAT DOES CONFIDENCE MEAN TO YOU?
To be sincere.
WHAT DOES EMPOWERED MEAN TO YOU?
Feeling enthusiastic and inspired.
WHAT ADVICE WOULD YOU GIVE YOUR YOUNGER SELF?
Insist, persevere, don't give up and do the right thing.